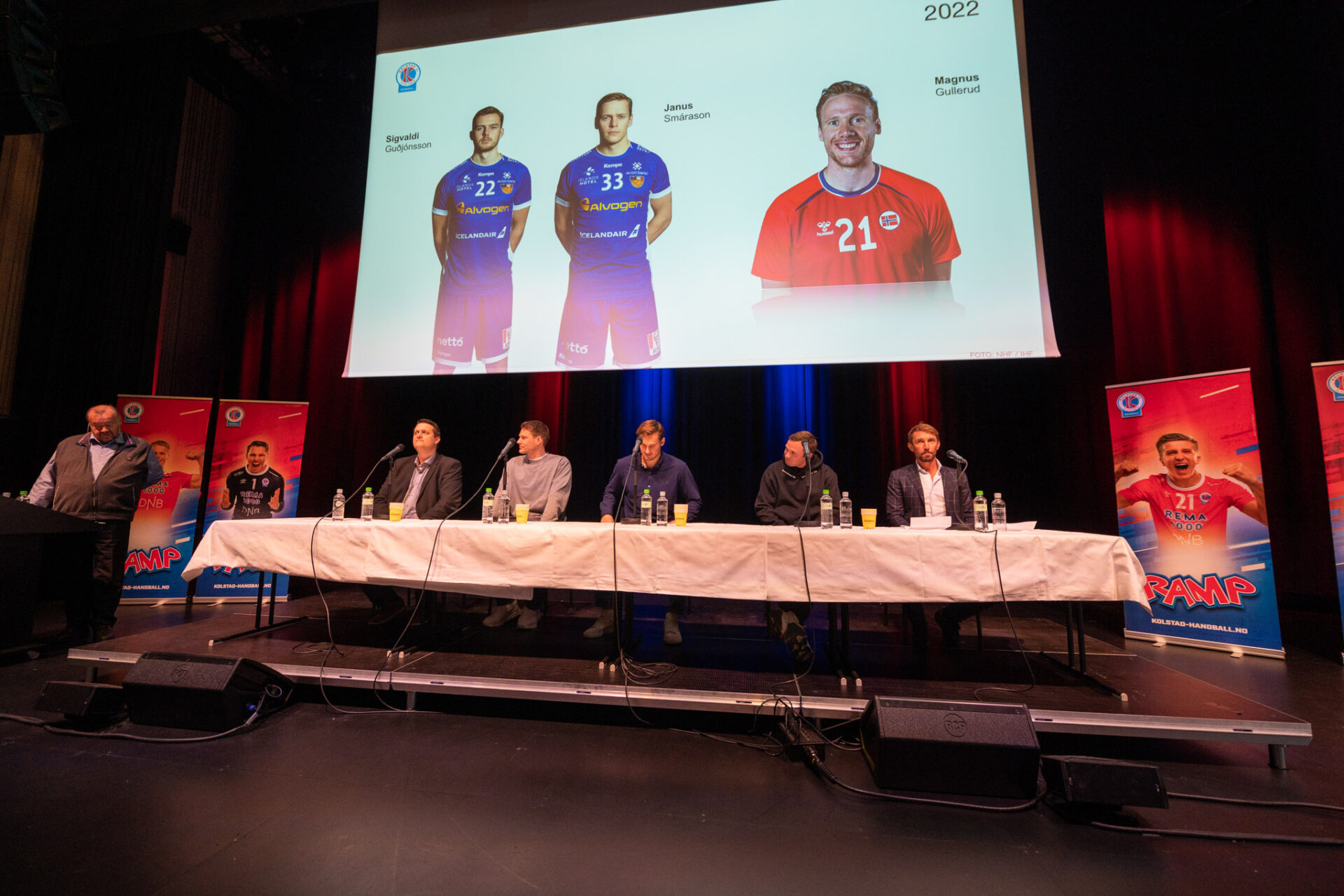 PRESS RELEASE: Kolstad Handball brings home Sander Sagosen in addition to other top international players
This will be the beginning of a sport fairytale in Trøndelag.
Kolstad Handball has an ambition of becoming an European force and has launched the dream of bringing home THW Kiel star player Sander Sagosen. Now we can make it official; the dream has become reality. Sander is moving home to Trondheim in 2023 and with him come more international top handballers.
With great pride we can make official that the following six players have signed a contract with Kolstad:
* Sander Sagosen (26) THW Kiel – comes to the season 2023/2024
* Torbjørn Bergerud (27) GOG Håndbold – comes to the season 2022/2023
* Magnus Abelvik Rød (24) SG Flensburg-Handewitt – comes to the season 2023/2024
* Magnus Gullerud (29) SC Magdeburg – comes to the season 2022/2023
* Janus Smarason (26) – FRISCH AUF Göppingen – comes to the season 2022/2023
* Sigvaldi Gudjónsson (27) – Tomza Vive Kielce – comes to the season 2022/2023
Kolstad aims to the very top of the Champions League
Those six international top players shall during the next two years be phased in together with the players already in the Kolstad squad. Kolstad Handball has today some of the most talented young players in Norway, and most of them come from the region of Trøndelag. The "newcomers" will be idols which can be watched at close range for the handball youngsters. They will give a face to the dream of the ambitious young ones.
– Together we want to create the most spectacular sports event in Norway. We also work to fulfill the objective to become the best handball club in the country within 2024. The club and the players together further have the ambition to be an international top club able to compete in line with the very best Champion League teams, says Jostein Sivertsen, CEO in Kolstad Handball.
Build further on a historical strong base
Kolstad Handball shall build on a fantastic base put together by the persons working in the club, the volunteers and the supporters over the last 15 years. The club has today nine employees in addition to the professional players. This year we will for the tenth time in a row be able to present a financial profit. Thus we think Kolstad Handball has good prerequisite to succeed.
Milestones in the history of Kolstad Handball
2005: Kolstad is established, playing in a very little local hall, Husebyhallen.
2008: Jostein Sivertsen comes in as CEO. Through several arrangement with youngsters income is created.
2010: A vision is launched; to play European handball in an own arena.
2012: The team takes one step up, to the 1. division (second level).
2015: Kolstad qualifies for the premier division, today named "TEMA 1000-league".
2018: The Kolstad Arena is inaugurated. The arena is a super one both for sports, culture and business events.
2019: We qualify for European competition. Unfortunately it was stopped by the Covid19 epidemic!
2020: We arrange the biggest indoor tournament – "REMA 1000 Trondheim Håndballcup" – and put yearly into activity more than 15 000 young players in handball schools, players get together and tournaments.
We operate, train and play matches in Kolstad Arena. We also have access to Trondheim Spektrum, one of the finest handball arenas in Europe. In November 2019 in this arena we set a spectator record for the REMA 1000 league playing in front of 7000 fans.
Our plans have got a very positive reception

We in Kolstad have used the last six month to mapping possible interest in our project, both to regional and national business leaders. The response received has been unambiguously positive. The work now lying in front of us will be to formalize cooperation agreements with both big and smaller businesses in the whole country, many of which already have committed themselves to participate. REMA 1000 has expressed a wish to become the general partner in our project.
We now proceed from having a dream to having a product
Will create great experiences
We have a strong belief in our project to creating a huge engagement among people in Trøndelag. In our region there is a lot of people wishing to take part in sport and culture events. We wish that Kolstad Handball becomes a team which have dedicated supporters from the whole country, backing us up when we are going to play for European titles.
Want to know more – contact one of these three:
Jostein Sivertsen, managing director: 47-90151568
Vegard Selven, marketing director: 47-99165777
Eivind Johnsen, chairman of the board: 47-91170135